PFC brake calipers, discs and pads are manufactured in their state-of-the-art production plant located in Clover, South Carolina. With world-class manufacturing processes in place, their 200,000 square foot, 400-plus employee facility supplies major automotive retailers, thousands of workshops and vehicle manufacturers in domestic and international markets. With offices in America, Europe, Colombia and Japan, Performance Friction® is able to stay connected to its customers around the world.
Performance Friction UK Ltd is the sales, distribution and technical support centre for Europe, providing assistance to a network of regional distributors throughout the EMEA (Europe, Middle East and Africa) region, from a 7,000 square foot facility, holding stock of over 2,000 product lines.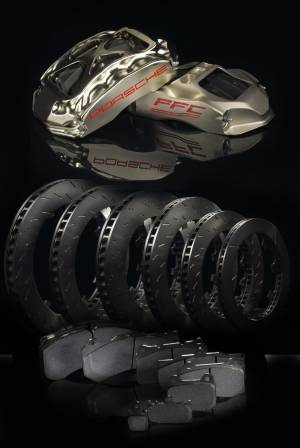 At Performance Friction® every employee has "passion for the product" … and it shows … PFC Brakes continues to be the market leader wherever drivers demand unrivalled performance and quality – No Compromises™. Our brake calipers, discs and pads outperform the competition in all markets, from professional racing to commercial fleets.
Road / High-performance – It's quieter, stops quicker and lasts longer. At Performance Friction® we don't just copy OE, we make it better. Whether you're driving a sports car, saloon, truck or recreational vehicle, we make application-specific Z-Rated® Big Brake Kits, Carbon Metallic® brake pads and OE direct replacement Direct Drive™ discs. PFC two-piece discs last longer and reduce vibration caused by thermal distortion and warping.
Fleet and Off-road – Lower cost per mile. Many leading operators rely on PFC discs and Carbon Metallic® brake pads to deliver the lowest cost per mile and highest durability in the industry. In the off-road market Performance Friction® was the first brake pad supplier to produce an asbestos-free solution to stop a 300-ton truck at 35 mph.
Z-Rated® – It's quicker, it's cooler and it's patented. Every year hundreds of major championships around the world are won with PFC Z-Rated® calipers, Direct Drive™ discs and Carbon Metallic® pads. What's our secret? No single attribute makes us the best. We engineer our calipers, discs and pads to work together as a system to give drivers superior control, the lowest lap times and unrivalled reliability.